Species at Risk Initiative
Conservation practices that support species at risk, critical habitat and biodiversity offer many benefits to producers:
Supports agricultural sustainability
Helps you with pest control (natural predators mean fewer chemicals)
Improved water quality and quantity, and erosion control
Nutrient-rich forage for livestock
Makes you eligible for special programs and incentives
Keeps you competitive: prepared to meet market demands for sustainable sourcing
Gives you pride of place in our prairie heritage
There are about 70 species at risk in Alberta (birds, mammals, fish, amphibians and reptiles, plants and insects – their status varies from Special Concern and Sensitive to At Risk and Endangered. The images below show six endangered species.
| | | | | |
| --- | --- | --- | --- | --- |
| Northern Leopard Frog | Piping Plover | Short-Horned Lizard | Swift Fox | Yucca Moth and Soapweed plant |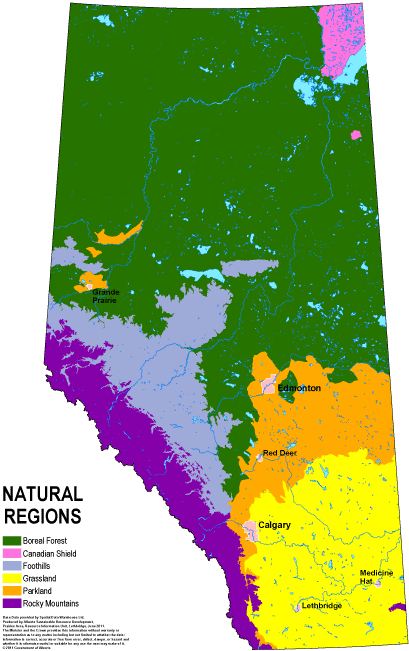 Seventy-five percent of Alberta's species at risk are found in the Grassland and Parkland regions and 26% of our grasslands remain in a relatively natural state. Let's try and keep it that way. If you already have species at risk on your land, you're already doing something right.
Conserving habitat that supports species at risk is the primary means to ensure their survival.
The initiative relies on Alberta producers – initially those who farm in the prairie grasslands and then extending to those in other regions. Its goal is to facilitate two-way exchange and best management practices that support conservation while enabling producers to fast-track the completion of an EFP. Alberta EFP and its trained technicians will provide you with information on simple, low-cost ways to conserve SAR habitat on your land.
Some examples:
Protect existing wetlands from being drained or ploughed
Maintain a buffer zone of natural vegetation around wetlands
Limit the use of pesticides, herbicides and fertilizers
Limit grazing near riparian areas and wetlands in the spring
Provide rest after grazing or patchy grazing to allow grasslands to recover
Eliminate alien (non-native plants), e.g. thistle
More best practices can be found in the booklet At Home on the Range.
The SAR initiative includes both information and assessment tools that will help agricultural producers support SAR and prepare for the emerging market demand for sustainably sourced products.
The project will use several data sources to simplify and speed up the process of completing an EFP. It will also enable producers to know what species at risk may be on their land and whether or not they are endangered.
We are also developing on online tool that will roll into the overall EFP – a self-assessment program that helps you evaluate your land and farming practices to see if they are environmentally sound.
The EFP and its SAR component are developed in collaboration with ag industry groups, conservation associations and all levels of government. These groups will help Alberta EFP identify any potential concerns and recognize early adopters (conservation champions).
For information on completing an EFP, click here. To register, call 780-612-9712.
The Alberta EFP program is administered by the Agricultural Research and Extension Council of Alberta on behalf of the Government of Alberta.
Watch our video about Species At Risk
Species at Risk Initiative