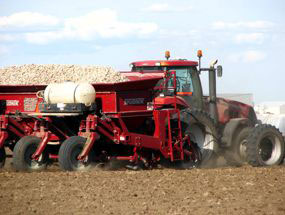 Master marketing plan uses tools such as EFP to build markets today and tomorrow
There's a simple lesson in customer service for Terence Hochstein in a common McDonald's breakfast meal. The customer doesn't have different expectations from the biscuit, the egg, the sausage or the hash brown.
Whether that consumer is sitting in a McDonald's in Taber, Alberta, or somewhere in Europe, the expectations for food production are the same. Do the right things and prove that you're doing them.
The Alberta potato industry has sprinted out of the starting gate in championing environmental stewardship programs and using that process to strengthen its brand. Part of that is the approach the industry has taken to make it mandatory for all potato producers to complete an Environmental Farm Plan (EFP). That effort is already paying dividends with top customers worldwide such as McDonald's Corporation and Wal-Mart.
Hochstein, a cow calf and crop producer himself and a Certified Crop Advisor is Technical Director at the Potato Growers of Alberta (PGA). Working with potato producers each day he has developed a deep appreciation for their commitment to stewardship and to continual improvement. He has also witnessed the payoff in the marketplace.
Building a brand lead
The potato industry approach in Canada is based on a thorough approach to documenting benchmark information on current industry practices, while also documenting clear targets for progress, using tools such as grower surveys and EFPs. One high profile example saw the industry across the country rally together to provide stewardship information to McDonalds, to help the company respond to shareholder questions. The response not only satisfied the shareholder expectations - it also helped the food giant boost its public image as an environmentally responsible company.
In the case of PGA, part of what helped the organization adopt its progressive stance was the fact all PGA producers had developed EFPs for their operations. As a result, they had a head start on documenting environmental stewardship practices and identifying opportunities for improvement.
The processors actually dictated that each farm had an EFP, says Hochstein. The EFP is one of the tools in the toolbox, part in parcel of the whole food safety issue. It says that producers are aware of their environment, identifying things that can cause a problem and doing things to address it. It's a whole farm thing and it allows producers to benchmark themselves.
"No grower gets up in the morning and likes to get in his sprayer and go out and spray," says Hochstein. "If there's an alternative method, like Integrated Pest Management (IPM), some logical option, they will be first in line to do it."
That thinking is also why potato growers along with industry commodity groups are voluntarily participating in a lifecycle analysis initiative with Alberta Agriculture and Rural Development. "We're trying to show the potato industry is aware of its surroundings and aware of the impact of producing potatoes and trying to minimize that," he says.
Producers drive their future
Based on what producers are telling him, Hochstein thinks the future for EFP and related efforts has a direct connection to the wireless information culture where the focus is seamless information flow between all electronic devices.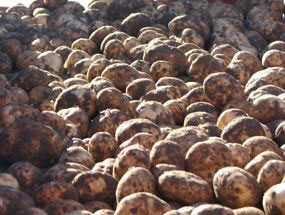 "We need to think like that in agriculture," he says. "Our growers are like all growers. They don't like paperwork, but they understand it is part of the requirement to be in business. However, they have a three-inch. thick EFP binder and they have a three-inch thick Canada GAP binder and many of the same questions are in each. What grower wants to face six inches of paperwork?
"What they are telling us is why can't we have a system where we answer a question once and it populates all tools, just like we are able to do with a smartphone, laptop and notepad?"
Building broader industry support
Another thing that has become clear as the potato industry developed its brand is how the rest of the agricultural industry deals with building sustainability into their branding efforts. Having seen the benefits to the potato industry nationally, Hochstein uses Europe to explain why he thinks there is a need to build common support for EFP in Alberta and nationally.
"There are currently over 140 different EFPs in Europe and from where I sit I think that's a terrible thing," he says. "It's getting down to the point where they are fragmenting the tool within commodities to differentiate themselves. It's one thing to develop parts of this tool that are commodity specific, but when you have too many different EFPs in the market, it just won't work. There's less credibility to all of them."
That's a question he thinks will need to be addressed nationally and across commodities in Canada at some point. He believes there needs to be some common support across the country for a standard EFP tool.
"I'm not sure exactly how that would be accomplished," he admits "but it would make sense to for a province like Alberta to say if we're going to be in this why not be a leader it.
"There are limited resources and we need to make best use of them," he says.