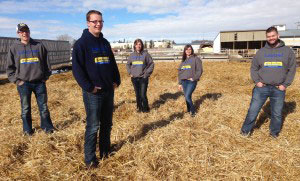 Lakeland College is the first Alberta post-secondary institution to complete an Environmental Farm Plan (EFP). Agriculture students used their Student Managed Farm (SMF) at the college's campus in Vermilion, Alberta for the assessment. They were able to complete their EFP and start implementing the plan in the January-April 2015 semester.
"It is a great learning tool for them," said Josie Van Lent, the dean of agricultural sciences at Lakeland. "The EFP is very thorough and leaves no stone unturned. Frankly, the closer we can get to using what is supported in the real world and by industry or farmers, the better we will be. Now that the students have completed an EFP at college, it will not be a big step for them to do one on their own farms or for producers they may work with."
An EFP is a self-assessment tool that enables producers to determine whether their farm operations are environmentally sound, and to identify areas needing improvement. The Alberta Environmental Farm program was developed in 2003 and has been delivered by the Agricultural Research and Extension Council of Alberta (ARECA) since 2013. Though several Alberta agricultural education programs use EFP demo exercises in their curriculums, Lakeland was the first to complete an entire EFP and receive a certificate of completion
"There is a lot of power in these students," said Geoff Brown, an animal science technology instructor. "Being able to get their teeth into these real-life projects that we're doing will allow them to feel more confident about them going forward. I think it is a valuable part of our curriculum."
The EFP project was initiated by Brown and five second year animal science technology students in the commercial beef unit, but it soon became apparent that students enrolled in all SMF units were needed to do a full assessment. They collaborated with around 50 of their peers from other agricultural disciplines at Lakeland including the crop technology program and other animal science technology students in the sheep, dairy, and purebred beef units to complete all sections of the EFP.
"It gave them an understanding that on a real-life farm there is often more than one enterprise," said John Lunty, program head of crop technology, whose students helped familiarize the animal science technology students with the cropping techniques used on the student run farm. "Farming is not necessarily just cropping or livestock, so there has to be an integration of the goals and objectives of each part of an operation. The EFP incorporates many things that we are trying to teach them and sustainability is often at the core of it all."
The students followed the same process that any other producer would: when they registered, they were given access to the online workbook and assigned an EFP technician to answer questions and help them complete their plan. Their representative was Owen Nelsen, the EFP technician in the Minburn-Vermilion area. His services were also available to the students after they received their certificate of completion and began implementing their plan.
Many of the students in Lakeland's agricultural programs were unaware of EFP going into the semester, but are now thoroughly familiar with the program and the benefits it brings producers. "Though I knew next to nothing about EFP at the start of this initiative, completing the EFP wasn't too big a challenge," said Deann Scott, one of the five animal science students who led the group. "I learned that any farm can go out and do this. After we completed it, I wondered if my parents should do this on their farm."
Going forward, Lakeland is building a stewardship and sustainability team which will be composed of students from different agricultural disciplines. The students on this team will work together to ensure that Lakeland's EFP is kept up to date and that implementation of the plan continues.
Brown added, "Having the animal science students work with the crops team helped them learn to work with people, communicate, and see what it is like to specialize in different areas of interest."
AEFP Director Paul Watson hopes that more agricultural programs will take note and look into completing an EFP. "Lakeland has demonstrated their commitment to environmental stewardship and we commend them for their leadership in sustainable agriculture education. Students are the future of farming; if they learn about and adopt sound environmental practices now, they will likely incorporate those practices into their farming operations and careers."